Thanks to the digital maturity assessments we carry out on the regional territory and to the visits to our living labs, we are aware of the needs of businesses and institutions.
This enables us to correctly match supply and demand and to embark on effective cooperation with ICT providers.
Digital Solutions

All Italian ICT companies can offer us their 4.0 technologies through the Digital Solutions call: you can join the list of providers that we involve in our initiatives and present your products at events or showcase them in one of the living labs.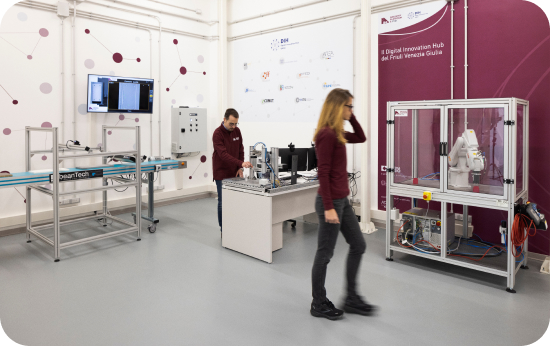 1.
First of all, we get to know each other: through a call that is always open, called Digital Solutions, you can present to us the solutions you have developed for the digitalization of businesses and the PA. You will then be added to a long list of providers, and we will be able to present the technologies and practical initiatives you have developed to businesses that may need them.
2.
Your solutions will be integrated into our 4 living labs, demonstrators where businesses and organizations have the opportunity to test 4.0 technologies. You will be able to present your solutions directly both during our special-theme events and in the visits we arrange to the living labs.
3.
If these initiatives lead to the matching of needs or to actual digital transformation projects, we will work together with you to offer the best possible service to our users.
4.
We can also help you to further develop your solutions: through both information on calls that can finance project upgrades and specific training activities to raise in-house digital skills.
5.
At certain times of the year, thanks to the "test4digitalization" calls, we finance projects on demos or tests of solutions, in which we ask businesses wishing to digitalize some of their processes to apply, together with their providers.
About us
We help businesses and institutions to walk down the path of digital transformation
Find out more
The 4 IP4FVG
living LABS
Book a visit with our experts, come and try the technological solutions present in the demonstrators.